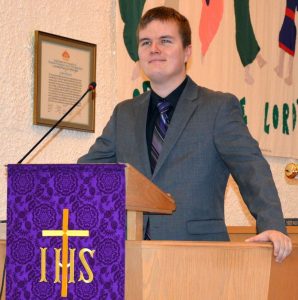 Minister
Rev. David Sturtevant comes from Kitchener-Waterloo, Ontario. He graduated from Presbyterian College in Montreal in 2016. Prior to that he attended Wilfrid Laurier University, where he earned a Bachelor of Arts in Computer Science and Philosophy.
Music Director
Brian Way delights us every week on the organ and piano and with his choral arrangements. And not surprisingly so. He is well known in the local music community for his talent and accomplishments. Over the past twenty years he has worked as a composer, arranger, accompanist, adjudicator, guest performer, producer, actor, teacher, and has appeared on over thirty albums. He has been musical director for many local musicals such as "Chicago," "Cats,", "Our Divas Do Christmas," and "Gypsy". He has also produced music for television, radio, and various recording artists, including Mickey Dolenz of "The Monkeys" and "Bobby Arvon of "Happy Days", to name just a few. In 2006 he completed a masters' degree in piano performance at Memorial University and received the 2007 Music NL Sideman of the year award.
Church Administrator
Our very cordial and capable administrator Heather Morrissey is in the office from 9 – 1 Monday to Friday to help with whatever is needed. She oversees all office duties, including scheduling of rentals. Call or drop by with any questions.